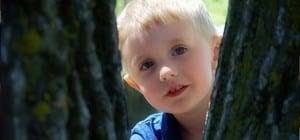 You are worried about seeing him spend his early years doing nothing.
What! Is it nothing to be happy?
Nothing to skip, run, and play around all day long? Never in his life
will he be so busy again.
~Jean Jacques Rousseau
Meet…The Hannan family…
I am such a sucker for the curled lip, going to cry face…awwww!

Gotta Love Dads :)