Somewhere over the rainbow, skies are blue, and the dreams that you dare to dream really do come true" ~Lyman Frank Baum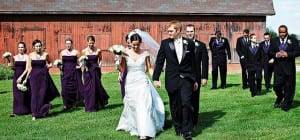 Jim and Emma's wedding day was one of the most beautiful days. The sky was a crisp dark blue with light fluffly clouds. A sky that makes you want to be a kid again and bounce from cloud to cloud.
I met the couple about two weeks prior to their wedding date. Talk about pressure! Jim actually called me from California in need of finding a photographer and FAST! I am always very impressed when the groom calls to set up the arrangements for their wedding. Definitely, a man I consider to be a "keeper." :) So with less than a week from their wedding, I met with Jim and his GORGEOUS fiance' Emma to set up the arrangements.
Unfortunately, I was not able to stay for their reception but thank goodness for second photographers. I would have loved to stay considering how sweet this couple was. You could definitely feel the love between them.
Jim and Emma's wedding was held at the Lussier Family Heritage Center in Madison, WI. It made for some amazing scenic photos. I hope you two enjoy your sneak peek….it was a great few hours I got to spend with you! :)
Here are those amazing blue skies…

This was the beautiful flower girl, what a BEAUTY!

Notice the small photo, it is Emma's grandma who passed away. What a great way to still have her with you on your wedding day.

Isn't Emma just gorgeous!!!

No comments yet