Run away, find you a lover Go away somewhere bright and new I have seen no other Who compares with you. ~Tom Petty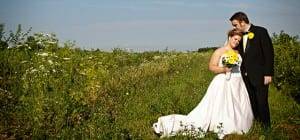 I love, love, love a wedding filled with familiar faces. Not only did I get to photograph this wedding in my home town, Beloit but I also shared it with my family and some friends from back in the day.
I used to work with Mary back in my H.S. days. We both worked for my Mom (when it used to be called) at Rock Co. Tobacco Free Coalition. Mary and I spent hours driving around to different cities throughout Rock County and yes, we even tried to buy cigarettes together, while under-aged. ;) It was part of the job…I promise!
So trust me when I say, I was ecstatic to photograph Brad and Mary's wedding. :) The wedding was so adorable, filled with black polka dots and fun pin wheels. As well as, a first kiss that was completed with a step stool for the vertically challenged bride.
Then after the wedding, my second photographer and I drove Brad and Mary through some corn fields to find a covered bridge for some photos. Lets just say, corn fields make for an interesting maze. ;)
Thank you, thank you, THANK YOU Mary and Brad for letting me be part of your awesome day. :)
This cake is simply fantastic.

Even the Bride has polka-dots.

Her Dad was actually tearing up here, waiting to walk his little girl down the aisle.

Mary tearing up during her vows. :) Awwww.

Check out the step-stool!

We found the bridge!!!

These are the faces of popping a cork and watching it fly into the crowd! PRICELESS!