"OK, Cupid" show me the way, I'm going to win someone's heart today.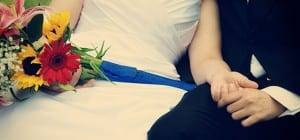 The world of technology, oh, I how I love technology. Despite my extensive troubles with the new fangled gizmos and gadgets of the modern age. Andrew and Katy however, were lucky enough to find love through the internet and even better, a life long companion.
Andrew and Katy had their wedding at a beautiful park in Middleton, WI. It was a perfect setting for a simplistic wedding, filled with family, friends, yummy subs, and what better way to bring everyone together but with a good ol' game of bean bags.
Thank you for letting me be part of your day! :)
Kids and Bubbles….she can hardly contain herself. Love it!
What better way to take a ring photo than with FOOD! :)
No comments yet