Madison, WI Wedding Photographer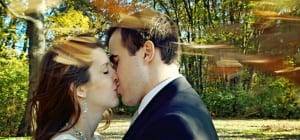 "Whatever happens,
I'll love you just as I do now until I die."
~Gone with the Wind
Everyone dreams of their perfect wedding day. The colors, the music, the way your dress will feel while walking down the aisle, the look on your husbands face when he finally sees you, and the weather. The weather? Yes, the weather. Most couples have their weddings indoors, but in my world, we HAVE to take some outdoor photos.
You would think that in order for your day to "be perfect," everything must go perfectly. Wrong! As long as you enjoy the twists and turns of your day and just have fun, trust me, it will be PERFECT! As did Aric and Michelle on their windy…windy wedding day. The weather was gorgeous but extremely windy! Aric, Michelle, and their wedding party took it like champs. We had so much fun taking photos in the wind and they didn't even bat an eye (and this took some talent) while having piles of leaves pelted at their heads. :)
It was a perfectly windy wedding day…Thank you so so much! It was a fun day. :)
Kale bouquets…Impressive!
They were determined to get these photos done. ;)
No comments yet