It must have been love at first sight…or maybe the green felt!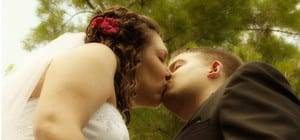 When I found out I was going to photograph Mike and Emily's wedding in Beloit, WI I was pretty excited!!! Beloit is my hometown and I was happy that not only do I get to take photos there, but I also get to visit my family after the wedding is done.
I met with Mike and Emily to go over all of the details of their wedding at a familiar restaurant in Janesville, WI. After talking a bit, I found out that they met at one of the old hang out spots in Beloit, a pool hall. The pool hall gave me a lot of fun ideas for some photo ops and luckily, the groom and his men were more than willing to pose in front of the Carom Room.
The wedding was gorgeous with lots of bright colors, great weather, a groomsmen with "mad" boutonniere skills, and delicious strawberry cupcakes to top it off!
Thank you so much Mike and Emily for letting me be part of your day….Enjoy your sneak peek!
A photo in front of the place they met…

The Blessing of the rings…I have never heard a ceremony as heart-felt as this one!

The father-daughter dance has always been a tear jerker for me, I love this photo…it is such a cute moment between Emily and her Dad.